Sorry we are experiencing system issues. Please try again.
Bellalago homes for sale, Kissimme, Orlando
Homes for sale in Bellalago offer you a chance to live in one of the most beautiful residential communities in the Kissimmee area of Florida.  Bellalago is a beautiful gated community surrounded by canals and waterways on the banks of the famous Lake Toho in Kissimmee which is very well known for being one of the best bass fishing lakes in the USA.  Bellalago has its own boat lift system which takes boats up to 26ft, this gives residents in Bella Lago the opportunity to get right onto lake Toho and enjoy over 300 acres of lakes.  You will find many of the canal homes in the community have had boat ramps and docks installed and residents park their boats right at the rear of their home.  
Where is Bellalago located?
Bellalago is a residential community located 18 miles south of Walt Disney World,  25 miles from Orlando International airport and 9 miles from the historic downtown area in Kissimmee.  It is positioned on the shores of Lake Tahopekaliga just off Poinciana Boulevard and uses the Kissimmee zip code 34746.
Waterfront homes for sale in Bellalago, Kissimmee, Fl.
If you are looking for a waterfront home in Kissimmee then look no further than the beautiful community of Bellalago.  The homes In Bellalago are beautifully positioned around man-made waterways which has direct access into Lake Toho, which is one of the largest lakes in Kissimmee. Lake Toho is also part of the large Kissimmee Chain of lakes which is made up of, Lake Toho, Cypress Lake, Lake Hatchineha, and Tiger lake.  You can also travel down the Kissimmee River as far south as Lake Okeechobee.
New homes for sale in Bellalago
New homes for sale in Bellalago, Kissimmee, Fl are priced from the mid $200's. Choose from 14 different flexible floor plan options that range from 3 to 7 bedrooms and offer 1,768 – 4,830 square feet in beautiful under air living space.  Each new home in Bellagalo is built by one of America's top builders, Taylor Morrison. New homes for sale in Bellalago feature luxury and high-end exterior and interior finishes which include custom kitchens with granite countertops and high-end appliances throughout.  You also have the option to add a private swimming pool and spa to your new home.
Bellalago Floor plans
3 bedroom floor plans
The 3 bedroom floor plans in Bellalago offer 2 stunning open floor plan option that gives you a feel of a much larger home.  The homes range from 1,768 square feet for the Aruba model and up to 2,055 for the Saint Thomas plan.  Both have 3 bedrooms and 2 bathrooms as well as a 2 car garage.  This single-story new home Orlando floor plan comes with the option to personalize the layout of your home with upgraded options available through the Taylor Morrison Design Studio.  The floor plans offer an open plan kitchen with a beautiful Island and spacious gathering room.
---
Aruba floor plan
1,768 Square Feet
3 Bedrooms
2 Bathrooms
Price starting from $263,990
---
Saint Thomas floor plan
2,055 Square Feet
3 Bedrooms
2 Bathrooms
---
4 Bedroom Floor Plans
---
Cayman Floor Plan
1,838 Square Feet
4 Bedrooms
2 Bathrooms
---
 Antigua floor plan

2,399 Square Feet
4 Bedrooms
3 Bathrooms
---
Bonaire floor plan

---
 Martinique floor plan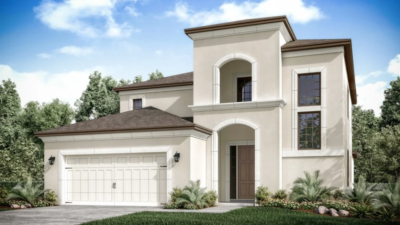 2,872 Square Feet
4 Bedrooms
3 Bathrooms
---
Amelia floor plan
2,755 Square Feet
4 Bedrooms
3 Bathrooms
---
Java floor plan
2,721 Square Feet
4 Bedrooms
3 Bathrooms
---
Saint Croix floor plan
2,921 Square Feet
4 Bedrooms
3 Bathrooms
---
Caladesi floor plan
2,918 Square Feet
4 Bedrooms
3 Bathrooms
---
Barbados floor plan
3,422 Square Feet
4 Bedrooms
3 Bathrooms
---
Abaco floor plan
3,221 Square Feet
4 Bedrooms
3 Bathrooms
---
Carmen floor plan
3,959 Square Feet
4 Bedrooms
3 Bathrooms
---
5 bedroom floor plans
---
Sand Key floor plan
3,835 Square Feet
5 Bedrooms
4 Bathrooms
---
Bimini floor plan
4,181 Square Feet
6 Bedrooms
4 Bathrooms
---
7 bedroom floor plan
Bellalago offers just one 7 bedroom floor plan known as the Tradewinds.  This stunning floor plan offers 7 bedrooms, 4 bathrooms, and a 3 car garage.  Enjoy open plan living with beautifully designed kitchens, open plan living spaces and amazing outdoor lanai's
---
Tradewinds floor plan
4,830 Square Feet
7 Bedrooms
4 Bathrooms
---
Bellalago Amenities
Bellalago offers a wide range of fantastic resort-style amenities that enhance the living experience for its residents. One of the standout features is the two beautiful Mediterranean-style clubhouses. One of these clubhouses features a remarkable 1,300-foot-long boardwalk that extends over Lake Toho, providing breathtaking views of the water and a serene gazebo at the end where residents can relax and enjoy the tranquil surroundings.
Club Vialago is a hub of activity, offering a multipool aquatic center, a well-equipped fitness center, a water splash pad for kids, and amenities such as tennis and basketball courts. It also boasts a lifestyle center, catering to residents' social and recreational needs. The community is dotted with walking and biking trails, allowing residents to immerse themselves in the natural beauty of the area while staying active.
Residents of Bellalago also have access to the amenities at the sister community, Isles of Bellalago. Club Isola, located in Isles of Bellalago, features its own clubhouse, fitness center, pool, spa, and a children's water tot lot. This additional set of amenities provides residents with even more options for relaxation and recreation.
Living in Bellalago means having a vibrant social calendar filled with various activities and events. Residents can participate in crafts, dancing events, sports, fitness classes, ladies' nights, kids' events, and much more. There is something for everyone, ensuring a sense of community and opportunities for making new friends.
For dining options, residents can head to Flip Flops Bar and Grill, conveniently located onsite. This restaurant serves breakfast, lunch, and dinner, offering a menu with a variety of delicious options. From sandwiches and salads to tacos and more, there is something to satisfy every palate. The kids' menu is also available, providing choices like mac 'n cheese and chicken tenders to cater to younger diners.
With its exceptional amenities, including picturesque lake views, swimming pools, fitness centers, social activities, and onsite dining, Bellalago offers residents a resort-like lifestyle right within their own community.
Is Bellalago family-friendly?
Yes, Bellalago is indeed a family-friendly community in Kissimmee, Florida. With its gated entrance and emphasis on safety, families can feel secure within the community. The community offers a variety of amenities and activities that cater to families, making it an ideal place to raise children.
One notable feature of Bellalago is its access to Lake Toho, where many homes are waterfront properties. This allows residents to enjoy water activities such as boating, fishing, and water sports, providing endless opportunities for family fun and bonding.
Additionally, Bellalago is home to the Bellalago Charter Academy, a K-8 school that provides convenient access for residents within the community. This proximity enables families to easily walk their children to school, promoting a sense of community and making the school journey more convenient.
Beyond the community itself, families living in Bellalago have access to a wide range of family-friendly attractions and amenities in the surrounding area. Kissimmee and nearby Orlando offer numerous entertainment options, including world-renowned theme parks like Walt Disney World and Universal Orlando Resort. There are also shopping centers, restaurants, parks, and recreational facilities that cater to families of all ages.
Overall, Bellalago's emphasis on safety, access to Lake Toho, and proximity to family-friendly amenities make it an excellent choice for families looking for a welcoming and enjoyable community to call home.
Schools near Bellalago
Bellalago, located in Kissimmee, Florida, is served by several reputable schools in the surrounding area. Here are some notable schools near Bellalago:
Bellalago Academy: Located right within the community, Bellalago Academy is a public K-8 school that offers a comprehensive curriculum and a focus on academic excellence.
Chestnut Elementary School for Science and Engineering: Situated in nearby Orlando, Chestnut Elementary School is known for its specialized science and engineering programs, providing students with hands-on learning experiences.
Horizon Middle School: Also located in Kissimmee, Horizon Middle School offers a well-rounded education with a variety of academic and extracurricular programs for middle school students.
Liberty High School: As the local high school serving the area, Liberty High School offers a wide range of academic and extracurricular opportunities for students in grades 9-12.
Osceola County School for the Arts: Located in Kissimmee, this public magnet school focuses on providing a comprehensive arts education alongside a rigorous academic curriculum.
These are just a few examples of the schools near Bellalago, offering families a range of educational options. It's important to note that school boundaries and availability may vary, so it's always a good idea to verify the specific schools and programs with the school district when considering a home in the area.
How much does it cost to own a home in Bellalago?
After you have purchased your house in Bellalago what other fees will you be expected to pay?  Just like any other master-planned community that offers beautiful landscaping, waterways, and on-site facilities you will be expected to pay HOA fees.  HOA fees are payments made by each owner which contributes to the upkeep and security of the community.
HOA fees (Homeowner association fees) run at $277 per month.
All on-site amenities are included for this as well as lawn care.
Homes for rent in Bellalago
If you're not quite ready to buy a home in Bellalago, why not consider the option of long-term rentals in this stunning Kissimmee community? Bellalago offers a range of beautiful homes available for rent, with options ranging from 3 to 7 bedrooms. Renting in Bellalago allows you to experience the community's exceptional amenities, convenient location, and access to top-rated local schools. Whether you're looking for a spacious family home or a cozy retreat, Bellalago has the perfect rental home to suit your needs. Enjoy the best of both worlds by residing in a desirable community while having the flexibility of a rental arrangement. With its proximity to all that Orlando has to offer, there's no better place to rent and experience the vibrant lifestyle of Bellalago.
Selling my home in Bellalago
When it comes to selling your home in Bellalago, trust the expertise and dedicated service of our Top Villas Realty team. Our experienced real estate professionals understand the intricacies of the Bellalago market and will guide you through the selling process with care and professionalism.
At Top Villas Realty, we know that selling your home is a significant decision, and our team is here to provide the support and guidance you need. We will start by conducting a comprehensive evaluation of your home, taking into account its unique features, location, and recent market trends. With this information, we will help you set a competitive and attractive listing price to maximize your return on investment.
As part of our comprehensive marketing strategy, we will showcase your Bellalago home to its fullest potential. Our team will utilize professional photography, virtual tours, and targeted online advertising to reach a wide range of potential buyers. We also have an extensive network of buyers, both local and international, who specifically seek properties in the Bellalago area.
Throughout the selling process, our dedicated real estate professionals will handle all the details. From staging advice and property showings to negotiations and contract management, we will be with you every step of the way. Our goal is to make the selling process as smooth and stress-free as possible, allowing you to focus on your next chapter.
By choosing Top Villas Realty, you gain access to our expertise in selling homes in Bellalago. Our team understands the unique aspects of the community and will effectively highlight the amenities and lifestyle advantages that come with owning a home in Bellalago. We will market your property to attract qualified buyers who appreciate the beauty and charm of the community.
At Top Villas Realty, our commitment to exceptional service extends beyond the sale. We value our clients and strive to build long-term relationships based on trust and satisfaction. We are dedicated to delivering the best possible results and ensuring that your selling experience exceeds your expectations.
If you're ready to sell your home in Bellalago, contact our Top Villas Realty team today. Let us put our experience, resources, and personalized service to work for you. We look forward to helping you achieve a successful sale and a seamless transition to your next adventure.
Looking to buy a home in Bellalago
If you're ready to embark on the journey of buying a home in Bellalago or Isles of Bellalago, our dedicated Bellalago Realty team at Top Villas Realty is here to assist you every step of the way. With their extensive knowledge and experience in the local real estate market, our team of experts will guide you in the right direction to help you find your perfect home in these desirable communities.
At Top Villas Realty, we understand that each buyer has unique needs and preferences. Whether you're seeking a foreclosure property, a bank-owned home, or exploring short sale opportunities in Bellalago, our Realty team is well-versed in the intricacies of these transactions. They will provide you with valuable insights and guidance, ensuring that you make informed decisions that align with your goals.
With our onsite presence in Bellalago, our Realty team has a deep understanding of the community and its offerings. They will take the time to listen to your requirements, answer your questions, and assist you in finding the ideal home that meets your needs and exceeds your expectations.
As you navigate the home buying process, our team will provide you with access to a wide range of available properties in Bellalago and Isles of Bellalago. From luxurious waterfront homes to charming single-family residences, our Realty team will help you explore the diverse options and find the perfect match for your lifestyle.
We prioritize your satisfaction and aim to make the home buying experience a seamless and enjoyable one. Our team will handle all the necessary paperwork, negotiations, and logistics, ensuring that your purchase process is smooth and hassle-free.
Don't hesitate to contact our Bellalago Realty team today to begin your home buying journey. We look forward to listening to your needs, helping you navigate the market, and guiding you towards finding your dream home in Bellalago or Isles of Bellalago. Let our expertise and personalized service make your home buying experience truly exceptional.